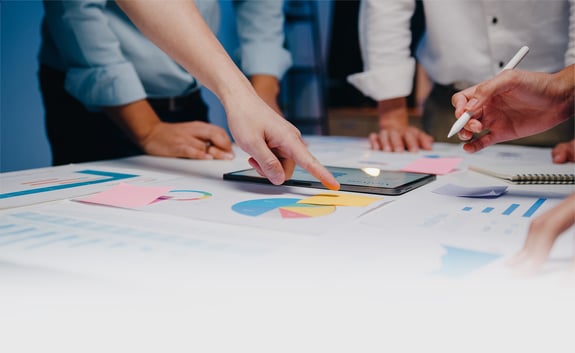 HEALTHSPAN ACHIEVES 90% MORE BLACK FRIDAY 2020 SALES
CASE STUDY
THE COMPANY
Healthspan is the UK's leading direct supplier of vitamins and supplements. Healthspan was founded in Guernsey in 1996, with a firm focus on quality, innovation, and unsurpassed customer service.
The company has remained at the forefront of advancements in the world of health and nutrition, while remaining committed to its founding principles.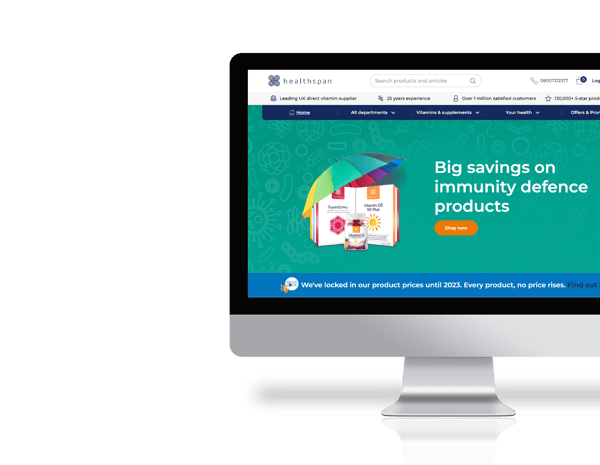 Healthspan operates in the UK, Republic of Ireland and New Zealand, and distributes its products worldwide. It is currently expanding its retail, B2B and third-party online marketplaces.
Healthspan sources and manufactures its range of over 200 supplements, ensuring optimal purity and quality along the way. The company has 1 million satisfied customers and over 130,000 5-star reviews (Feefo).
Healthspan's Elite brand for competing athletes is an official partner of New Zealand's All Blacks, British Athletics, British Cycling, British Swimming, Tottenham Hotspur, Nottingham Forest, Southampton FC, The Lawn Tennis Association and Hampshire County Cricket Club.
Healthspan Elite provides Informed Sport-approved and batch-tested quality products developed with and for professional athletes.
THE CHALLENGE
Healthspan required a more robust and scalable solution, with improved critical customer journeys and enhanced content delivery capabilities (including across multiple sites). The company's vision is to provide a targeted and integrated personalised brand experience across marketing channels including regional TV, social, PPC, SEO, eCRM, call centre, mail as well as web.
A component-based build on Sitecore gave the content editing team flexibility when using Sitecore's Experience Editor and Content Editor, including editing category pages and site navigation. This enabled testing and improvement powered by Sitecore's marketing features without the need for development and releases.
The Healthspan Elite site was launched for the first time on the same codebase, and provides an exclusive environment for Elite Athletes, with tailored content and experiences.
- Customer experience has improved
- Provision of a mobile-first design, improved speed and performance (especially on mobile)
- Enhanced design supported by testing analytics and personalisation
- Increased payment options
- Improved My Account and self-service including subscription management
- Customer support via chat and co-browsing features
THE TRANSFORMATION
The new Sitecore XC website has transformed the critical user journeys such as checkout to impressive results.
The site redesign was approached from a customer experience angle, looking at mobile-first and an end-to-end service design.
The aim was to move from two fixed journeys – new and existing customers – to a level of personalisation to meet a wider range of user needs, powered by Sitecore.
Providing personalised entry points for paid, SEO and eCRM, through to optimised category pages, gave Healthspan measurable gains. Sitecore's Personalisation is used to make mobile and new customer experiences faster and lighter, through modifying or removing page components – such as subscriptions – that are not a priority for mobile users or less relevant for new customers.
Sitecore is fully integrated with key third party solutions such as Coveo, which ties in with Sitecore Personalisation to create a unified and supported view of the customer journey.
What's more, the machine-learning capabilities of Coveo search have led to improved product merchandising, enabling more relevant product search results and exposure to new products.
Online chat and co-browsing sessions with customer service representatives have enabled Healthspan to support new customers with product information and assist older customers with website usage. Full integration with the CRM platform has enabled customer self-service.
To improve customer aftercare in the My Account section of the website, Healthspan used a test and learn approach, paired with content components that they could remove or move based on real user behaviour patterns. This also improved the speed of the pages and reduced calls to the CRM database.
The platform's content flexibility, paired with analytics, has enabled Healthspan to shape customer journeys and improve the overall experience for all customers. This has supported growth and increased conversion rate.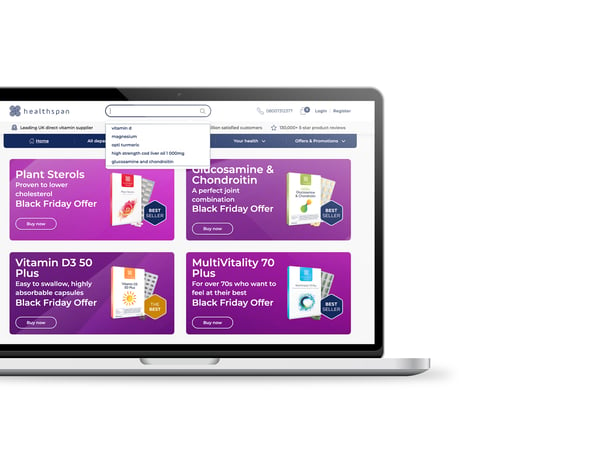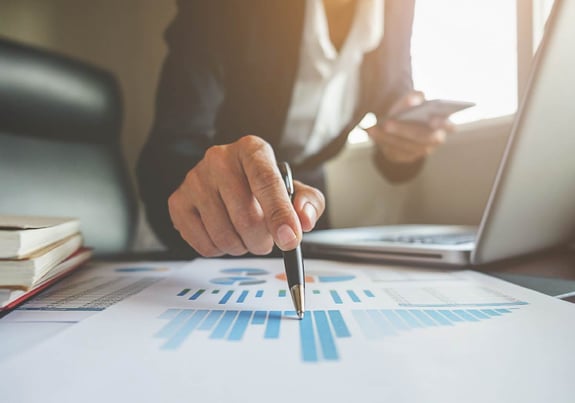 We have seen some impressive results since going live:
Healthspan's marketing teams are now making the most of Sitecore's marketing features, including creating personalised homepage banners for specific marketing campaigns, and improving mobile performance by removing / hiding heavier pieces of media.
Healthspan recently ran an A/B test to assess the impact of the Sitecore Personalisation rules controlling a dynamic homepage banner that matches an email offer. The personalised banner had a positive impact with a 7.2% increase in order volume and an 11.6% increase in gross revenue. This is a huge improvement and showcases the value of Sitecore's marketing features for Healthspan.
Provision of the fully branded, differentiated HealthspanElite.co.uk site at very low additional overhead, using the same codebase with the same core data. This site has already achieved a 6.17% conversion rate and 34% higher AOV than Healthspan.
Excellent 4.7star Feefo service rating and customer feedback: https://www.feefo.com/en-GB/reviews/healthspan?displayFeedbackType=BOTH&timeFrame=YEAR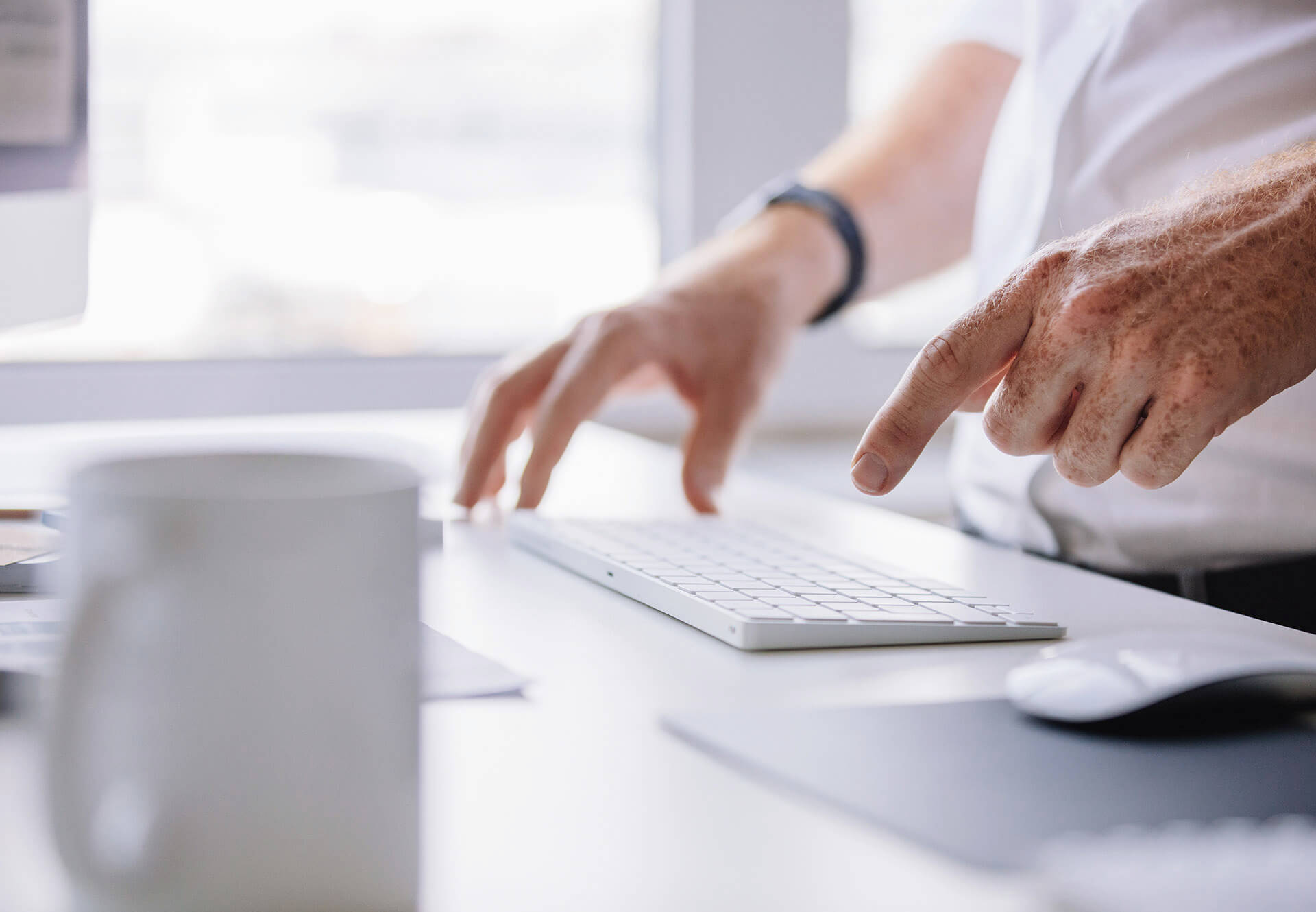 LOOKING FOR HELP?
SCHEDULE A MEETING WITH AN EXPERT
If you're looking for ways to improve your customer experience to achieve impressive results like these, we'd love to hear from you.
Nemetos Tanasuk is a full service digital agency who have over 14 years of expertise helping clients to realise their goals in a way that totally transforms their user experience.
We're small but mighty, working as your teammate and partner, not just as an anonymous external agency.
From discovery and design to delivery and optimisation, we collaborate with your digital stakeholders to ensure that you can create beautiful, user-focused digital experiences which help you to hit your goals. As a client, you receive a hands on, honest and ambitious approach to strategy, which empowers your team to get results through cutting-edge innovation and technology.
We'd love to invite you in to visit our office, meet our team and ask your digital questions. Coffee and Croissants Consultations are a great way to do this, and you can book a slot any Wednesday or Thursday morning to drop in and say hello (with the best pastries Borough has to offer - in our opinion!